Healthy Maryland Crab Cakes
Healthy Maryland Crab Cakes Recipe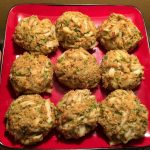 What You Need to Make Healthy Maryland Crab Cakes:
1 pound – Jumbo Lump Crab Meat
2 eggs – Raw
4 tbs – Mayonnaise – Use Healthy Avocado Mayo made by Primal Kitchen
1 tsp – Old Bay Seasoning
1 tsp – Captain Troy's HeiferDust Creole Seasoning
2 tsp – Dijon Mustard (fine ground or coarse ground is ok)
1 stalk – Finely Chopped Celery
2 tsp – Worcestershire Sauce
2 tbs – Finely Chopped  Fresh Parsley
1 cup – Panko Break Crumbs – as an option to bind together if you are going to bake them.
What You Need To Make Healthier Tartar Sauce.
1 cup – Primal Kitchen Avocado Mayo
1 tsp – Dijon Mustard (preferably smooth ground)
1 tbs – Fresh Lemon Juice
4 tbs – Sweet Pickle Relish
1 tbs – Captain Troy's Heiferdust Creole Seasoning Make Healthy Crab Cakes:
In a large mixing bowl, dump in 1 pound of jumbo lump crab meat.  Take your fingers and gently break up crab meat so it won't be so lumpy.
In a separate bowl, mix all of your dry and wet ingredients well.   After all is mixed up and wet, pour mixture over the top of the healthy Maryland Crab Cake meat and mix well using a fork.   If you would like, you may also add in 1 cup of Panko Bread Crumbs to help hold the mixture together as a binder.   Just don't add too much.
The consistency of the mixture will be very moist, but it will want to bind together like a loose dough ball.
Get out a cookie sheet and cover with aluminum foil and grease it with avocado oil.
Take your hand and scoop up about 1 cup of Healthy Maryland Crab Cake Mixture into a ball and shape it with both hands.
Place the ball of crab cake mixture neatly on the foil covered (greased) cookie sheet.   Repeat this step until all of the mixture is used up and you have your crab cakes all the same size and laying on the cookie sheet in balls.
Place your Healthy Maryland Crab Cakes in the refrigerator and let them get cold – About 45 min to 1 hour.
Bake Crab Cakes For Healthier Results:
If you want really healthy crab cakes, you may bake them in the oven.
Preheat Oven to 375°
Place refrigerated crab cake mixture balls on the cookie sheet directly in the oven.   Cook for about 25 minutes or until crab cakes are golden brown.
Pan Fry Crab Cakes Option:
If you want to pan fry the Maryland Healthy Crab Cakes, you need a large skillet and some Avocado oil about 1/2″ deep.
Pre heat skillet with Avocado oil to medium high heat.
Place Cold Crab Cake Balls into hot grease.   You may also press down on them (gently) to make more of a patty.  Don't press too hard, because the binding ingredients are light and not very thick and you may end up with what looks like a stir fry instead of a crab cake.
Cook on each side until golden brown.  Usually about 4 to 5 minutes per side on medium heat.
Make Healthy Tarter Sauce.
In a separate bowl, combine Avocado mayo and all the ingredients together.  Refrigerate for at least 30 minutes or until cold.